Riding Van No 89
Van No 89 is a GWR 4-wheel Riding and Dormitory Van. In service these were paired with Tool vans and stationed at GWR loco sheds. The Tool and Riding Van pairs would be required to attend mishaps as fast as possible and were vacuum-braked to allow running at near express speeds.

89 was built at Swindon in October 1908 under Lot 580 and initially allocated to Exeter shed and recorded as 'Tender for Breakdown Van' in the register. It arrived on the SVR, by rail, from Worcester in January 1972.
Following Trustee Pete Simpon's death the van has been transferred to the Association and it's currently under restoration to provide a Mess Van for the Association volunteers.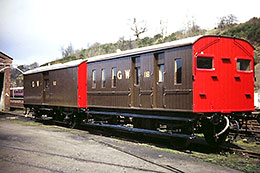 This photo shows sister vehicles ex Stourbridge pair nos 112 & 118 which arrived in 1968 and were restored soon afterwards. Photo: Rob Massey.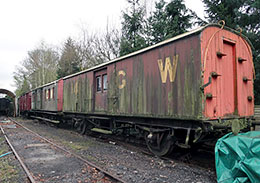 Tool Van 141 with Riding Van 89 behind in the back siding at Bewdley. These are usually rather hidden but saw daylight during a shunt in March 2017 get 4150 out from its polytunnel to remove the boiler. Photo: Rob Massey.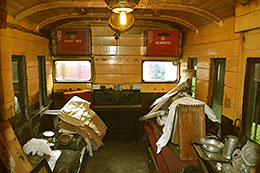 Cleaning and sorting the 'Officer Compartment' in preparation for use as the mess van. Photo: David A Smith.