GWR Toad 17410 restoration
An update from our friends at Bewdley restoring GWR Toad 17410 along with details of how to support this worthwhile project.
The LNER Coach Group Newsletter includes regular updates on the restoration of GWR Toad 17410, downloadable copies are available at the LNER SVR Coach Fund site. Anyone wishing to be added to the (email only) newsletter circulation can contact Richard Hill at: richardhill@lnersvrcoachfund.org.uk
HRA Carriage and Wagon competition winner!
We are very proud that the restoration of GW Nondescript Saloon 9103 has been awarded the top prize of 'Overall Winner' in the Heritage Railway Association's Carriage and Wagon Competition for 2015.
This is great credit to all our volunteers, all our supporters, and the Bewdley and Kidderminster Carriage Departments, for their dedicated and skilful work restoring 9103 to its original GWR condition.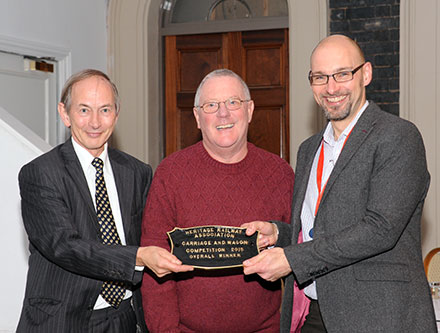 Web Site Updates
Current GW(SVR)A Restoration Projects
Garter Crest Transfers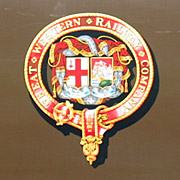 We have now taken delivery of some 1912 Great Western Garter crest Transfers plus arms and wing.
They are for sale at £100 each and have been professionally made to the highest standards a culmination of work by Bob Timmins, Mick Haynes and Butchers Printed Products.
Please email mick.haynes@atos.net with how many you require. On receipt of the correct cheque then they will be available for collection from Bewdley. Enquiries tel 07733 310 060.
Cheques made out to Great Western (SVR) Association and sent to Dave Massey, 72 Shakespeare Drive, Offmore Farm, Kidderminster DY10 3QY
Note that gold leaf is applied separately as is the small amount of chocolate brown before applying the transfer.
Previous GW(SVR)A Restoration Projects
Out and about 2009
Out and about 2008
Severn Valley Railway C&W Projects
Out and about 2007
Out and About - 2006
Out and About - 2005
Out and About - 2004
GW(SVR)A Website Search