1086 & 1087 completed March 1938 to Diagram C77, Lot 1593 as was 1116 which was completed in June 1938.
Collett thirds. Built 1938. Purchased in 1969 from Swindon works. These carriages were built as general service vehicles to a modified design and as such could be seen all over the country from Aberdeen to Penzance. They ended their days as part of the Swindon test train, used for load testing of diesel locomotives. They were all in quite good order when purchased and were soon in traffic on the Valley.
Further reading: Official Drawings No3 Great Western Coaches by John Lewis (Wild Swan, 1998) features detailed drawings and history of this diagram (C77).
<<previous Stock List next>>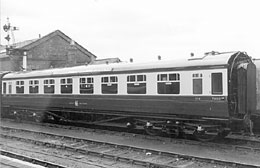 1116 fresh from overhaul, Bewdley 1975.
PHOTO: Colin Jenkins
1116 under overhaul during 2004.