Completed in November 1914 to Diagram C32, Lot 1246.
Churchward third built in 1914. Purchased in 1967 from Barry. This was among the final toplights to be built with a number of improvements to the design. It ended its days on BR as a messing and sleeping van. It lay untouched for a number years whilst better carriages were restored. It took five years of work to finally restore it to its original condition, but the effort has been worth it.
Further Reading: Colin Jenkins wrote a comprehensive article detailing the restoration of 3930 in Great Western Railway Journal No27 Summer 1998 (Wild Swan).
<<previous Stock List next>>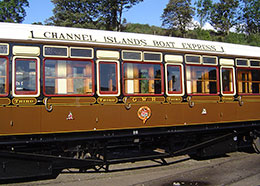 A closer view of the 2007 repaint with destination roof boards, full Churchward period lined livery, garter and supporters. Photo: Colin Jenkins.