2426 Churchward Third
Completed January 1910 to Diagram C32, Lot 1167.
Churchward third built in 1910. Purchased in 1972 from Swindon works. Built as part of a batch of what may be described as the first of the modern carriages of the Great Western. It was produced in various guises right up to 1923. Along with many similar vehicles, it was converted to a camp coach in 1957 and when it finished these duties, it was taken into departmental stock to work with the signal and telegraph department. It has been used for staff accommodation on the Severn Valley but the long term aim is to restore it to its original condition. It is the oldest carriage on the line.
Following a long period providing sleeping accommodation at Hampton Loade 2426 moved to the Carriage Shed at Kidderminster to dry out. It was moved to Bewdley, initially being used as a workshop before restoration started in 2022. Regular updates are posted on the 2426 restoration page.
<<previous Stock List next>>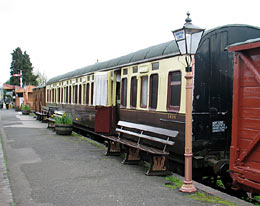 2426 Churchward Third Appeal - how to help return the Railway's oldest coach bach into service.