4786 Collett bow-ended Third
Completed March 1926 to diagram C54 (bow-ended stock) as part of Lot 1369.
A full third which seated 64 passengers in 8 compartments with a side corridor and end toilets. Together with brake thirds and composites, it was used on cross country and express services until the late 1950s. It was converted for departmental use in as DW150208 with S&T at Shrewsbury. Acquired by the Holdings PLC, it moved to the SVR in 1986. Since then it has been used as accommodation at Kidderminster until replaced by 9084. It's ownership passed to the Association in 2017. It will follow 6045 for full restoration and return to its original fully lined livery with pseudo paneling and garter crest and arms and wings in the GW 1920s set.
2018 update: In October 2018, 4786 was moved to Bewdley to start it's restoration. Regular updates are posted on the 4786 restoration page.
<<previous Stock List next>>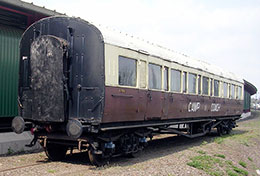 GWR Full Third 4786 Appeal - help bring a set of GWR Bow-end carriages into service on the SVR.