Completed May 1934 to Diagram D118, Lot 1514.
Collett brake third. Built 1934. Purchased in 1973 from Briton Ferry. These were Collett's first flat ended general service vehicles and showed a number of improvements; mainly the use of flush sided bodies. This vehicle ended its days as a messing van with the signal and telegraph department. Its restoration was reasonably quick and it has served many years on the Valley.
<<previous Stock List next>>
Two photos of 5883 in departmental service before it was purchased in 1973 from Briton Ferry, South Wales. Photos: Colin Jenkins

Restoration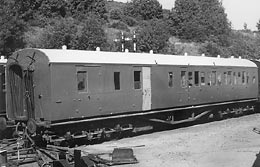 5883 under restoration at Bewdley prior to returning to traffic in 1976.





5883 under overhaul in 2004.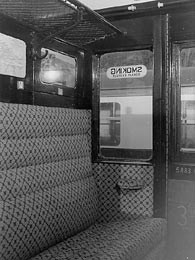 From 1980-1981 the coach received an overhauled at Bewdley, stripped to frames in Bewdley paint shop. All the seating was renewed with new specially made 1934 GWR style upholstery.