Work continunes on 2242 Hawksworth Brake Third prior to entering traffic on the railway.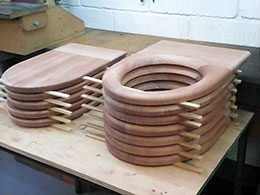 In other work, this photo shows the new toilet seats and lids that Guy is making. They are needed for 4786, 2426, 2242 and 6913 (6 in all). They look very nice!
Also, a shunt is planned to move LNER 24506 from the paintshop, back to its place in set N, to be replaced in the paintshop by 7284. The new gangway canvass will be fitted, plus some improvement to the charging system, which will include the regulator cupboard asbestos removal.
Mike is beginning work on the new utile to make the longer vertical parts of the toilet frames in 4786. He will also remake the section that bolts onto the corner post. Dave Massey has just completed staining and varnishing the 12th set of picture frame and moulding. He will look into the mirror fames as one of the next jobs.

Wide angle view of 9055 on 8th April some lettering outstanding. Photo: Alan Brookes.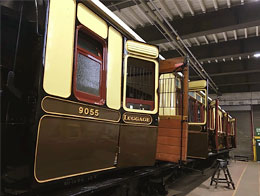 9055 approaching completion on 24th March. Photo: Angela Walker.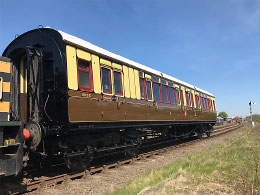 9055 on its test run 15th April 2020. Photo: Alan Brookes.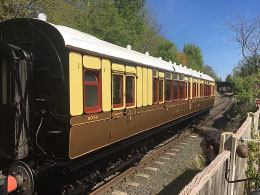 Another picture on its test run. Photo: Angela Walker.